InFocus May 2015 - Volume 24 Issue 4
Contents
Get up-to-date – check and change your details online
There are many reasons why it's important to update your company and business name details with us.
For company and business name holders you must notify us when you change your address. You must also tell us about other changes to the structure of your business, like a change of officeholder or business name holder.
This issue of InFocus explains why you need to make sure your information is correct and current, and why you should make your changes online.
Company details out-of-date? Go online now to update
The next time your company details need updating, use our online services.
It's a requirement to notify us within 28 days when your details change. Keeping your details up-to-date will ensure you receive important ASIC correspondence on time, and it's less likely you will receive late fees which can be costly.
Lodging online is quick and easy – there's no need to print and fill out paper forms, or mail them back to us.
Online changes are validated at the time of submission, meaning your changes won't be sent back to you for more information.
To lodge online, you'll need to register for online access and accept ASIC's conditions of use.
Most online updates take effect immediately and can be seen on the public register straight away.
Update your company details online now.
Are your business name details up-to-date?
If your business name details are incorrect, you'll need to update the information with us through ASIC Connect.
Keeping your details up-to-date ensures you receive your business name renewal on time. It will also allow the general public who search our registers to find out business name information.
If your details change, you must notify us within 28 days.
Our user guides and YouTube videos demonstrate how easy it is to update your details online!
Not sure if your business name details are up-to-date?
Check your details online using ASIC Connect Search. Alternatively, log in to your ASIC Connect account.
Which online system should I use?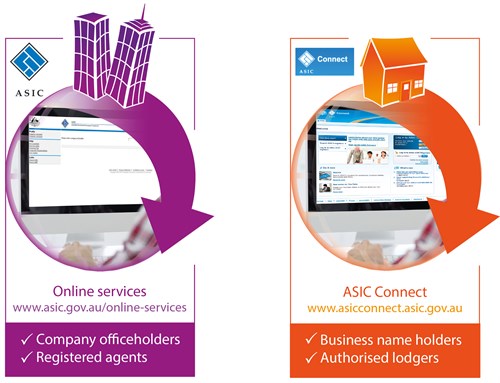 You may be confused about which online system you should use and when.
Companies and registered agents need to visit www.asic.gov.au/online-services . To get started, click the 'Log in' button underneath company officeholders or registered agents for companies.
Business name holders and their authorised lodgers need to visit www.asicconnect.asic.gov.au
Corporate key or ASIC key? Make sure you use the right one
While they sound similar, the corporate key and ASIC key are very different.
The corporate key is used to update company details. You'll need it to register for online access.
The ASIC key can only be used in ASIC Connect. Business name holders need an ASIC key to link their business name to their ASIC Connect account.
The two keys can't be used interchangeably. If you have a company AND a business name, you'll need to use the corporate key and ASIC key at different times, depending on the update you're making.
Five minutes with…Joshua Close, Manager, Registry Development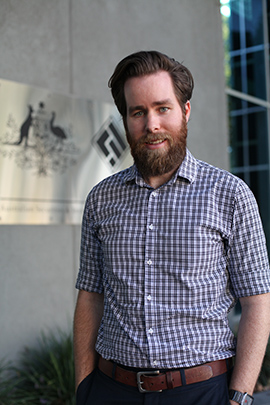 The best way to update your information with us is online. Find out how we have improved our online services and hear other helpful tips from Joshua Close, Manager, Registry Development.
I started at ASIC... over eight years ago in data processing. Through the years I have had a number of roles across ASIC's registry business. My current role is Manager, Registry Development.
Day to day... I am immersed in a project environment, whether it is projects that the Registry Development team are managing or other projects where my expertise is required. Most of my time is spent enhancing our service or developing new technical requirements to pass on to our IT team.
Our online lodgement services... have really transformed since I started at ASIC. The introduction of ASIC Connect has provided a new way for our customers to interact with us in an easy and efficient way.
My tips for lodging online… would be to read the user guides and online help if you get stuck. The online services are quite easy to use and there are plenty of resources available to help get your lodgements through successfully.
We've made it easier to lodge online by… continuously updating our services to meet customer needs. We have recently updated our website and made changes to our online services to make them more accessible and we are always creating more user guides and self-help products.
If I could have any superpower it would be… to always have amazing answers to these types of questions, because I really had no idea what to put for this one!