Our values
ASIC is a values driven organisation and our values underpin everything we do.
Values guide the way we work, the way we make decisions and how we interact with each other and our customers and stakeholders.
ASIC values are an essential element in meeting our strategic priorities and Service Charter.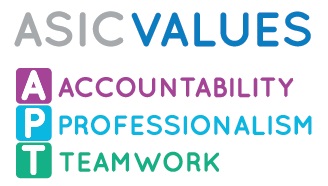 Values drive our behaviours and actions.
We will be accountable by:
delivering great results
finding better ways to do things
showing personal drive and resilience, even when it's challenging.
We will be professional by:
always being honest and fair in our dealings with others
valuing and treating everyone with respect
working in the best interests of ASIC.
We will demonstrate teamwork by:
building good, working relationships across ASIC
always considering the view of colleagues, stakeholders and customers
letting people know when they've done a good job.
There is a good reason people work for ASIC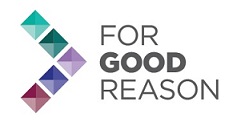 A career with ASIC provides personal and career development, and an opportunity to do important work that benefits all Australians. There are many good reasons for choosing a career with ASIC, including:
a chance to make a difference
interesting and challenging work
building your career credentials
getting unique insights into the financial services industry
accessing flexible working arrangements
great range of learning and development opportunities.
Visit the careers site to learn more about the benefits of working at ASIC.