ASIC Annual Forum 2020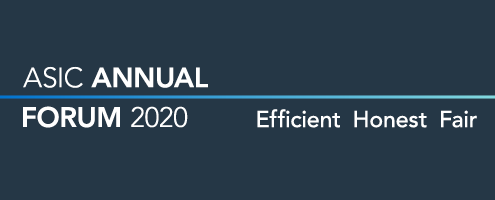 Register now
ASIC Annual Forum│ASIC Annual Dinner
25–26 March 2020
Hilton Sydney
Join us in 2020 for ASIC's long-standing key events for participants in the financial services and markets sectors.
Register by 12 February and save with early bird pricing.
The ASIC Annual Forum will be held on 25–26 March 2020.

Registration terms and conditions
The ASIC Annual Dinner will be held on 25 March 2020 (early bird does not apply).

Program highlights*
Meet the Commission
ASIC's Commissioners will outline the priorities for the year ahead and take questions from the floor.
The business of ethics
Industry leaders will discuss what ethics means in the business context, and how fairness, and the avoidance of harm, influence business conduct.
Members matter most
An expert panel of speakers will discuss the developments in Australia's superannuation system to address conduct issues relating to superannuation funds and whether enough is being done by these funds to improve the effectiveness of the system for the benefit of members.
* Subject to change. Full program of sessions and speakers available in late 2019.