Service availability
We often plan interruptions to our online services so we can install system upgrades. This page will have any details of planned or unscheduled outages to our online services.
Scam alert
We've become aware of scam email designed to mislead our customers into making a payment. The email is titled 'Request for ASIC correspondence reprint' and states that the customer has requested an invoice reprint. The email also contains a link to download the invoice.
The invoice has not been issued by ASIC. If you receive this fraudulent email, please delete it.
You can also report it to the Australian Competition and Consumer Commission's ScamWatch.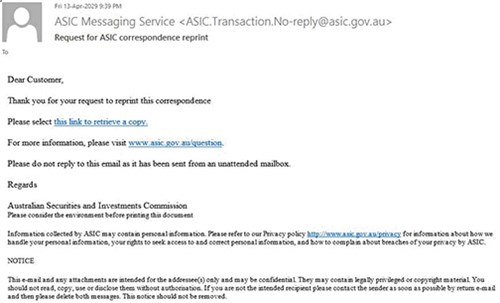 Service interruptions
Saturday October 29 2016 7am - 6pm AEDT
During this time, customers will be unable to:
The following services will be affected:
ASIC Connect Search (business names, companies, and SMSF auditors)
ASIC Connect Lodgement (business names, SMSF auditors, financial advisers, and authorised representatives)
Company officholder, registered agent, AFS and Credit, auditor, liquudator, and short selling services
M2M services (search, lodgement, extracts, NZAU Connect)
ABR ABN-BN Joint Registration service
Government access to search
Datastream services
Keep up-to-date with any future service interruptions by visiting our Service availability - Scheduled service interruptions page.
Seeking more information? Feel free to Ask us a question online.
Calendar of scheduled service interruptions
To help customers plan for any scheduled service interruptions, we publish the dates and details one month in advance. See Scheduled service interruptions for more information.
General system troubleshooting and issues
If you're having problems when using our online services, it could be an issue with your browser or settings. See System accessibility and compatibility and Transaction troubleshooting for tips on how to fix any issues.
Opening PDFs within the company portal
We've received reports of some customers having issues when trying to open PDF files within our company portal. We recommend you:
Save the PDF document on your computer and try opening from its saved location or
Use a different browser (Google Chrome, Mozilla Firefox, Internet Explorer). 
Searching on ASIC Connect
When performing a search on ASIC Connect you will need to select a tick box stating 'I am not a robot' to return the results.
If you are using an automated service, you may experience problems searching ASIC Connect.
If you require large amounts of data, you should consider using ASIC's registry data on Data.gov.au.
Service availability statistics
Each month, we report on our online services and our overall performance in terms of availability.
For an update on our latest performance figures, see Service availability statistics.